Associations, teachers, EEDD actors, Digital networks and bodies...a European network of actors behind the Sustainable Digital Conscience (CND) project!
"Alone we go faster, together we go further"
African proverb
Join us !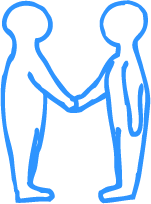 Aware of the interest of uniting our efforts by pooling our experiences and skills, our 3 associations have joined forces in this project.

As part of its development, we have worked in partnership with actors from different backgrounds. In each country, we have created networks of schools and other educational centres and networks as well as with representative organizations of the digital sector and of sustainable development and responsible consumption networks. Together, we have developed a multidisciplinary educational toolkit tailored to meet the educational needs of either adult educators (school teachers, trainers, educators in other contexts) and young apprentices aged 10-16 years and more.
Similarly, we are also keen to have shared our efforts with specialized, scientifically backed, organizations already involved in environmental and sustainable development social and economic issues (ADEME, Green IT, CNRS, WWF, NEXT Nuova Economia per tutti, Access Point, Electronic Watch, Abeilli, OXfam...) and in educational and training actions dealing with digital technology issues, without a specific focus on "the hidden digital side".

If you are interested in our approach and think that we could work together, do not hesitate to contact us.
Our financial supporters
The development as well as the distribution of the productions of the project require financial resources. Europe is the first support for the project with its "Erasmus +" program and ADEME is also providing us with invaluable additional support to enable significant deployment. Without them, CND would have not moves its steps. Thank you.
This project has been funded with support from the European Commission. This communication reflects the views of the author and the Commission is not responsible for any use that may be made of the information contained therein.
Our scientific reviewers and validators



Depending on the territories and skills of each, different organizations and individual experts have been asked to play the role of scientific reviewers by validating the information that is transmitted through the productions and in particular the informative booklet. The Pedagogical Guide and the Training Modules have been reviewed by the pool of teachers who have tested the whole CND toolkit.
COLLÈGE
JEAN-PAPON
La Pacaudière - France

IT TECNOLOGICO LICEO SCIENTIFICO BIAGIO PASCAL


Rome- Italy
ATHÉNÉE ROYAL JEAN ABSIL
Etterbeek - Belgium

COLLÈGE




NICOLAS CONTÉ


Régny - France

LYCÉE

DACHSBECK


Bruxelles - Belgium

COLLÈGE - LYCÉE




ALBERT-THOMAS


Roanne - France

IT TURISMO - LICEO SCIENTIFICO CHARLES DARWIN

Rome- Italy
The content that we develop is binding only on the project leaders. The interpretations, positions and recommendations contained therein cannot be attributed to reviewers and partner organizations.