Associations, teachers, EEDD actors, a set of actors united within the Sustainable Digital Conscience project!
"Alone we go faster, together we go further"
African proverb
Join us !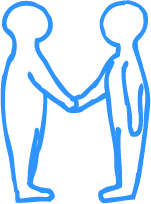 Aware of the interest of uniting our efforts by pooling our experiences and skills, our 3 associations have joined forces in this project.

As part of its development, we would like to work in partnership with actors from different backgrounds. In each country, we are going to create special links with 5 colleges (teachers and students) as well as with representative organizations of the school which will help us to develop appropriate supports and to test them in real situations. Similarly, we are also keen to work with specialized organizations already involved in these environmental issues (ADEME, Green IT, CNRS, WWF, ...?) As well as with organizations involved in educational and training actions in digital in general, without a specific development focus on "its hidden side".

Some dialogues and partnerships are under construction and others will be established as the project progresses.

However, if you are interested in our approach and think that we could work together, do not hesitate to contact us
Our financial support!
The development as well as the distribution of the productions of the project require financial resources. Europe is the first support for the project with its "Erasmus +" program and ADEME is also providing us with invaluable additional support to enable significant deployment. Without them, CND would not exist. Thank you
Our scientific guarantees!
Depending on the territories and skills of each, different organizations have been asked to play the role of scientific guarantees by validating the information that is transmitted through the productions and in particular the educational information booklet, pillar of the entire project.